What makes you play a certain game? Although games are voluntary, they might have something that makes you think "I want to play it!" or "Can't wait to experience that!" or "Amazing graphics, that's my type of game" and so on. So many reasons to play a game.
From my personal experience, I've played games that people suggested, sometimes just to compete against my friends. I've played other games that evoke a certain memory from past experiences. And, in the middle of all the possibilities, we have game genres and types of players.
Player types are ways to categorise players and "label" them into different characteristics. This may work for some strategies, but can we really label ourselves into one single type of player?
On the other hand, we have the game genres: arcade, adventure, RPG, Candy Crush clones and so on. So many genres and possibilities. Let's take the "clones" as example. Candy Crush is a puzzle type game of matching 3 elements, similar to the old Bejeweled. Actually, if we see in the app stores, there are a lot of clones of "popular games". But do people play those games because of similarity?
Now, considering the mobile games that are in the app store so far, we can see a large amount of games designed around a movie. Let's take the example of Minion Rush. It is exactly like Subway Surfers – another popular game. But it has the Minions everywhere. It's the same as playing the bouncing balls type game from the movie Inside Out. Maybe if you're a fan of the movie, you might download the game.
Considering this, we could be living in different bubbles that merge in different ways:
Game genre fan bubble: players that love this type of game and that's it. "I play puzzle games because I love puzzles" – or maybe the player types – but this is another discussion
"Theme" fan bubble: players that love the characters or the story of the theme. "I love playing Minion games".
Social bubble: players that play games to be part of a group. I've lived that – and from the stories that I've heard, this might be very true
My own bubble: I play games because I want to have fun. A very simple bubble of individual objectives (not getting into detail here)
Thus, we have something very similar to this: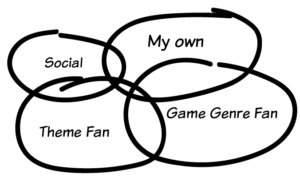 Of course it seems very simple to put people in one bubble. The idea is not that. Imagine that those bubbles are "alive" and moving to each other. They are not separated bubbles and they don't have closed lines.
The idea behind this is that it is very difficult to label players. They might change their objectives or preferences along time – and this is perfectly understandable.
Many things could be related to those bubbles. In this case, it is a combination of game characteristics that could make people prefer one type of game and another is someone's context or personal preferences. What makes people play games? Is this just an individual action or does the game itself provide this action? Why not both? One satisfy the other!
I think that the idea of the "fan" should be analysed. As games are cultural artefacts – why not explore the culture of the fan of games? Here we go. I will leave the thoughts with you.