If you ever been to Barcelona, you've probably visited Antoni Gaudi's famous places: La Sagrada Familia, La Pedrera,
Park Guell
and
Batllo House
. Everywhere in the city you can see his fantastic and incredible master pieces.
Gaudi was an architect and designer. His inspiration was founded around nature. Organic compositions, vibrant colours and breath-taking buildings are part of his work.
But what does it have to do with interaction design? While interacting with his work, a few aspects called my attention: the sense of spirit and respect towards nature, organic interaction with objects, the integration of elements (consistency), colour information, attention to detail and his inverted model of visualisation. Most important, however, was Gaudi's respect towards life. This could be explained not only by nature but the thought about human interaction inside those buildings. For example, in the Batllo House,  waves in the window's glass could bring a sensation of being inside the water. Nature had a purpose in his work. This shows that the integration of natural forms is part of interaction design. But also the inclusion of human factors in the centre of the design process. With that, I've selected a few elements: nature, maths, storytelling and reutilisation of resources.
Nature
Gaudi's relationship with nature was almost spiritual. One of his most wonderful works is La Sagrada Familia: a breath-taking church, built around natural forms. In interaction design, it is crucial to understand the context of each experience. The lesson that we can learn from Gaudi is that natural forms can evoke a certain familiarity and a sense of belonging. This could be evoked by different elements, textures, colours and combination of those elements. This reminds me of the old term 
Bionics
 and its applications around biological methods.
Mathematical approach
Maths were also mentioned in Gaudi's work. This could also evoke a sensation of "perfection", particularly through mathematical equations utilised to build organic forms. The columns in the Sagrada Familia church were built around hyperbolic equations, in order to sustain the weight of the pillars and the roof. This could suggest that in interaction design, it is important to follow natural patterns of interaction. Mathematical models of structure could be also effective while dealing with interaction design projects.
Storytelling
Another important element was storytelling. Every detail in the church could tell a story. This suggests that integration of elements and narrative are crucial while designing interactive projects. The attention to the order of problems and the representation of this narrative could also bring a sense of flow and understanding. This logical order of information is crucial.
Reutilisation of resources
Most of the decoration was reutilised from old pieces of glass. This reminds me of sustainability. I remember listening to the audio at Bartllo House: Gaudi started to think in terms of sustainability even before the term "sustainability". This reutilisation was organic and natural. We couldn't see that glasses were reutilised to bring different textures to Gaudi's work. This integration was crucial. As an individual walking inside and outside his buildings, I've felt inside a wonderland of fantastic and useful objects at the same time. It was like a mix of hedonic and utilitarian approaches all at the same time. For sustainability, Gaudi just ticked the boxes of sustainable interaction design. The promotion of both renewal and reuse was in his work and integrated with the whole building.
Sustainability is a word that has a strong relationship with Gaudi's work. Some say that it is a reflection of 
sustainable architecture
, represented by good utilisation go green spaces and coherent constructions. Gaudi's work can also inspire 
Design Thinking
 and human-centred design. For example, Gaudi was able to empathise with human needs and expectations, looking at human interaction with the environment and replicating it into buildings.
Of course, in terms of sustainable behaviour, it was unlikely that after being at Gaudi's buildings you would remember to save energy. However, the main sensation while being around his buildings was that we have to respect nature. It sounds cliche, but the experience was that we are part of the environment and we have the power to change our surroundings. Gaudi's legacy is unquestionable. If you have the chance, please go to Barcelona and visit his fantastic buildings!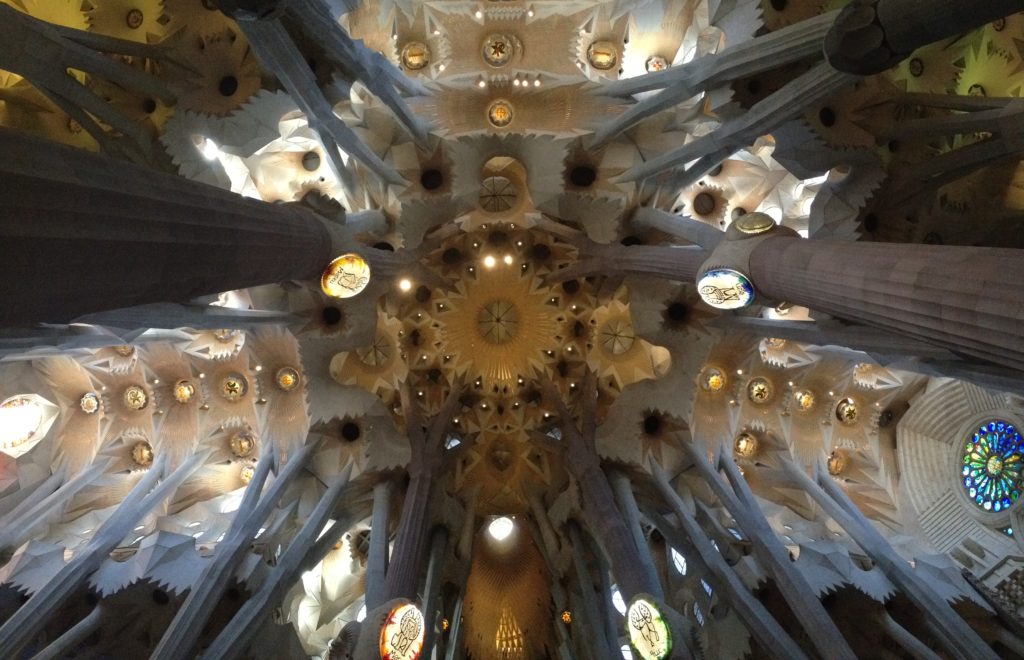 La Sagrada Familia – Photo taken by the author